Entrepreneurial journeys are meant to last a lifetime. Support from the Zell Lurie Institute continues well beyond graduation day. Discover the resources, events, networks, tools, and educational opportunities that await University of Michigan alumni entrepreneurs.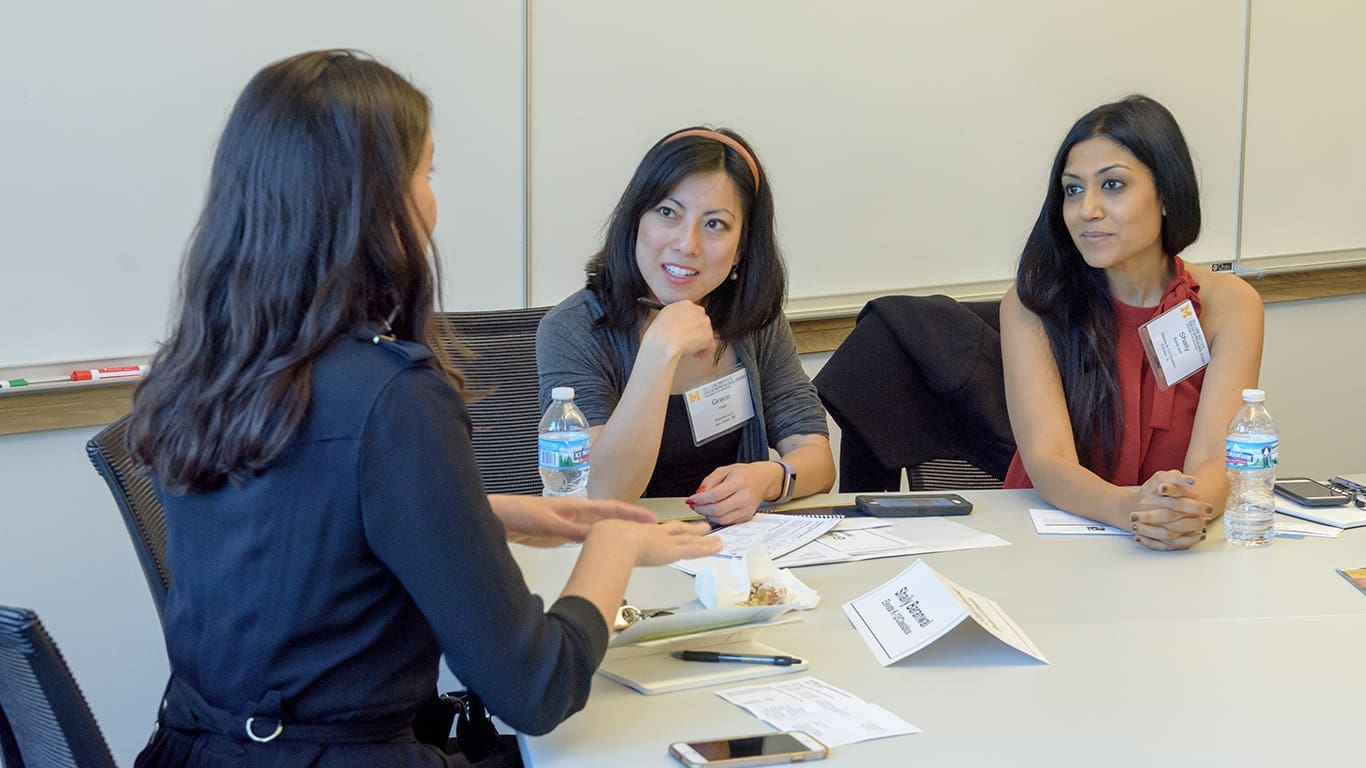 Educational entrepreneurial programs are available to U-M alumni throughout the year. In partnership with Michigan Ross faculty, notable U-M alumni, and successful entrepreneurs, our alumni programs continue to build upon the entrepreneurial foundations you gained while attending U-M. Take part in a series or select a session that fits your current needs.
Talk the Walk Webinars + Workshops
Presented by peer U-M alumni, Talk the Walk webinars and workshops take real-life lessons and apply them to your new venture. Session content is broadly relevant to entrepreneurs across industry and discipline. Facilitators share their expertise to support fellow founders with topic specific presentations, followed by interactive discussions and Q&As with attendees. Slide decks are available on U-M Canvas.
Alumni Office Hours
A unique piece of the entrepreneurial support system provided at ZLI, office hours allow alumni to consult with Zell Lurie Institute team members or entrepreneurs-in-residence who have the industry-specific knowledge required to help address a startup need, challenge, or question. Schedule your virtual appointment.
The ZAM! Program
The ZAM! Program is your chance to take a deeper dive into your University of Michigan Alumni network, your business goals and your personal strategies for success, alongside fellow entrepreneurs.
The Zell Lurie Institute, with the support of the ZLI Alumni Council, is presenting a unique opportunity, exclusively for U-M alumni entrepreneurs. While the thought of joining a Mastermind group may seem intriguing, the barrier of cost and the idea of sharing with an unknown community might deter you from participating in a truly remarkable experience.
Is a small group right for you? If you are a founder or VC that sees the value in connecting with your peers in a safe space, on a consistent basis, and are willing to share your struggles and support others on their journeys, this process has potential to be transformative for you.
Advantages of the ZAM! program:
Free program for U-M Alumni entrepreneurs
Application-based program, to ensure that the small groups will be highly curated
Small groups will create ideal dynamics for building quality connections and measurable growth for each participant
Each small group will meet once per month
Minimum 6 month commitment, allowing time to benefit from the process
Virtual meetings, inclusive of alumni across the country and around the world
Mandatory virtual program orientation for selected participants
All founders, CEOs and VCs are U-M Alumni
Become your best self within something bigger than yourself. In order to be considered for a future ZAM! cohort, please submit an application. For questions, connect with Drea Shipp-Caldwell.
Entrepreneurial events connect University of Michigan alumni locally, nationally, and internationally. From entrepreneurial conferences to startup competitions, ZLI alumni events engage entrepreneurs at every stage. If you're not receiving invitations to events in your area, please take a few minutes to update your contact information.
Zell Alumni Summit
The annual flagship event for alumni is our Zell Alumni Summit. This application-based program provides dynamic content and tools to support personal and professional growth at every stage of business development. In addition, this conference offers custom coaching and opportunities for alumni to hone their pitches for potential future investors. In 2019, participants represented 9 states and 2 countries. 
This two-day event is designed to support U-M alumni entrepreneurs in achieving startup growth, by making resources and connections available. Broaden your networks and develop new strategies for taking your businesses to the next level at this specialized summit. The Zell Alumni Summit includes high-bandwidth workshops and facilitated group discussions on the topics of greatest importance to entrepreneurs, program highlights include: 
​Custom 1:1 coaching sessions with seasoned entrepreneurs, investors, and attorneys
Workshops and interactive breakout sessions
Immersive treks into local Detroit and Ann Arbor entrepreneurial ecosystems
Networking events exclusively for founders
3×5 Dinners
The ZLI 3×5 Alumni-Student Dinner Program presents opportunities for students to join alumni entrepreneurs, as their dinner guests, for an evening of engaging dialogue and sharing of insights. Students are matched with alumni based upon industry segment or entrepreneurial focus. Alumni interested in hosting a 3×5 Dinner (virtual for 2020/21) should contact Drea Shipp-Caldwell.
ZLI Alumni Pitch Competition
Whether your business is seeking investment or you are simply looking to perfect your pitch, this event provides the extra incentive to hone your elevator pitch. All U-M alumni are eligible to apply to compete by pitching to a panel of esteemed judges for a chance to win cash prizes.
Regional Events
The Zell Lurie Institute hosts networking events in cities across the country for the purpose of bringing alumni together in those geographic locations. These events include panel discussions with local U-M alumni that founded successful businesses and interactive presentations by the ZLI team surrounding entrepreneurship.
Since 2018, ZLI has partnered with local Michigan Ross Alumni Clubs and University of Michigan alumni in New York, Chicago, Washington, D.C., Dallas, Detroit, and Ann Arbor. We look forward to visiting our West Coast Alumni and look to partner with other alumni groups per the request of club leaders. Please contact Drea Shipp-Caldwell, if you are interested in scheduling a regional alumni event with ZLI.
The entrepreneurial journey is best when shared with fellow founders. ZLI alumni entrepreneurs are an immense network of professional contacts—all with whom you already have two things in common. Our aim is to be a resource for entrepreneurs to network and benefit from the experience, connections, and expertise of U-M. Connect with fellow entrepreneurs and investors through our online platforms and in-person opportunities.
AAUM Zell Lurie Entrepreneurs Online Community Group
A University of Michigan only peer-to-peer platform to introduce yourself to nearly 600 alumni entrepreneurs and share opportunities, or just check out the conversations. The Zell Lurie Entrepreneurs group in Alumni Online Communities is the place where Wolverines come together for advice, information, camaraderie, and sharing the ups and downs of starting their own business. Jump in and keep the conversation going today. In this community, you can connect with other alumni leaders around venture creation and growth and other topical discussions. This is a place where you'll be able to give/get help, and so much more as it relates to being an entrepreneur.
ZLI Alumni Newsletter
Stay apprised of upcoming events, programs, and resources by receiving the ZLI Alumni monthly e-newsletter. Subscribe now and connect with the latest opportunities for U-M entrepreneurial alumni.
ZGEN at Michigan
Through the Zell Family Foundation, Sam Zell has led the sponsorship of several leading entrepreneurship programs, including: the Zell Lurie Institute for Entrepreneurial Studies at University of Michigan's Ross School of Business; the Zell Fellows Program at Northwestern University's Kellogg School of Management; and the Zell Entrepreneurship Center at the Interdisciplinary Center Herzliya (IDC).
The Zell Global Entrepreneurship Network (ZGEN) unites the students and alumni of these programs and actively provides them with connections, opportunities, mentorship and support.
Stay Connected
The team at the Zell Lurie Institute is here to support all U-M alumni regardless of their business stage. Whether you have a startup idea or a growing business, our programs and events are here to foster your continued growth. Our alumni offerings continue to expand to meet the needs of today's entrepreneurs.
Virtual activities have historically been part of our ZLI Alumni program offerings in order to maintain a high level of engagement with the global U-M alumni network. As we continue to expand our offerings, there will be additional options for remote participation. Please connect with our alumni program manager, Drea Shipp-Caldwell, with questions or club opportunities.